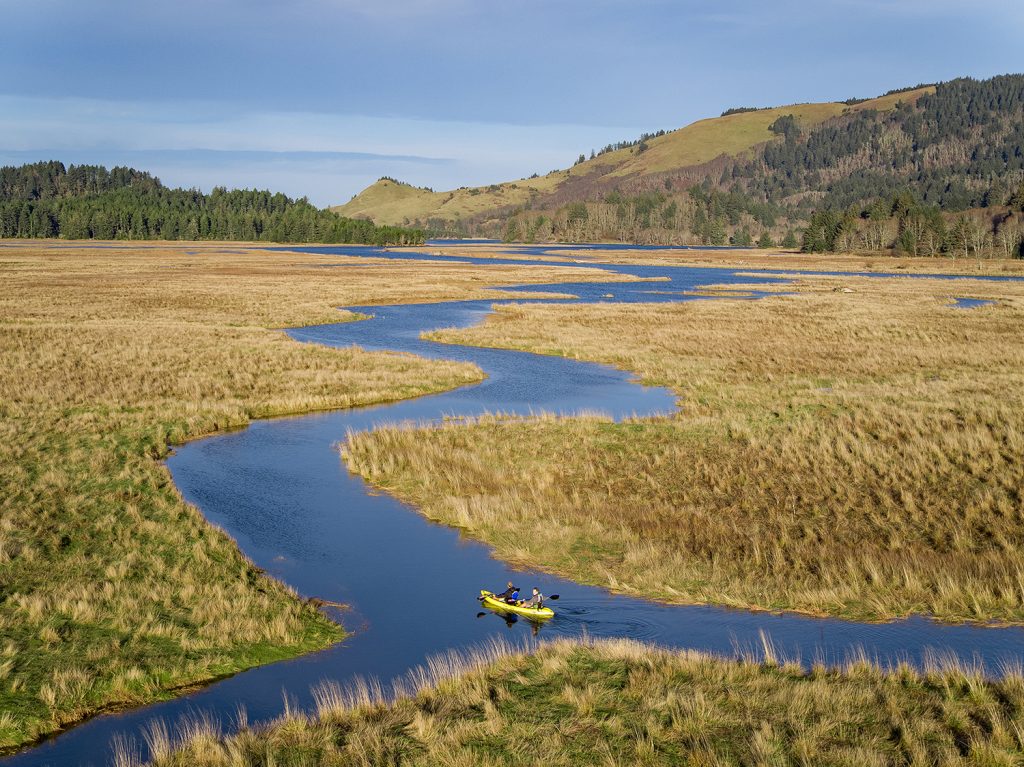 Lincoln City Kayak Tours
Looking for fun and exciting things to do in Lincoln City? Come try one of our Lincoln City Kayak Tours, just a few miles north of Lincoln City on the beautiful Oregon coast!
See the Oregon coast up close and personal.

Have fun and get a great workout at the same time!

Great family or work party activity!

Explore the beautiful scenery and wildlife that may include sea lions, seals, river otters, bald eagles, pelicans, peregrine falcons, herons, egrets, and countless other shorebirds, along with breath taking views.
What to expect
Your instructor will teach you the basics of paddling and how to enter and exit into the kayak. A fun kayak paddling tour enjoyable for adults and children. See restrictions below.
What to bring
Participants will get their feet wet, so bring sandals, water shoes, or wetsuit booties for walking on rough terrain. We recommend quick drying shorts, a moisture wicking fleece top, a windbreaker, and a stocking cap to keep your ears warm. If you get cold easy you may want to wear one of our shorty wetsuits. Just make prior arrangements before your kayak tour. We also have rental neoprene gloves available. We recommend everyone bring a water bottle and a light snack. Our kayak tours operate rain or shine, so best to bring a dry set of clothes to change into once your tour is finished. Our guides are very good at navigating to the calmer areas, but they can't control the wind and chop, so there is always a possibility you may get wet. If you're worried about getting wet just ask for a shorty wetsuit. If you bring a camera or cell phone make sure to have a water proof case, or small dry bag to keep it dry and protected. We also recommend a good quality sunscreen as the sun does reflect off the water.
More tips on how to dress for kayaking available at :
https://paddling.com/learn/how-to-dress-for-kayaking/
What is provided
The tour guides will meet you at Knight Park off of Three Rocks Rd and they will bring the kayaks, seats, paddles, life jackets, the invasive species permits, and the wetsuits if requested. We will also bring a dry bag for your miscellaneous belongings.
Restrictions
Participants should be in good health and free from any heart conditions, back, or neck problems, or anything that would hinder them from paddling a kayak.
Ocean Kayak weight restrictions.
Our Ocean Kayak Scrambler 11 has a MAX CAPACITY: 300-350 lbs | 136.1-158.8 kg
Our Malibu 2 Tandem Kayak has a MAX CAPACITY: 375-425 lbs | 170.1-192.8 kg
Note: A heavier participant can make prior arrangements to have a tandem kayak seated for one person.
Lincoln City Kayak Tours available on a first come first serve basis. If you have a trip to the coast planned… reserve your dates early.  Our tours can fill up and are tide dependent, and that limits the amount of tours we can do each day.
Cancellations:
We have a Strict 72 hour cancellation policy! We require a minimum of 72 hours cancellation notice before your scheduled tour. Cancellations after the 72 hour limit, or no shows will be charged the full amount. We schedule and reserve your time and block other customers from reserving and scheduling after we have taken reservations. Therefore we must keep a strict 72 hour cancellation policy. This policy protects our customers by guaranteeing their booking, and protects our tour guides from late cancellations and no shows.