Fat Bike Rentals Lincoln City Oregon
---
Fat Bike Rentals Lincoln City Oregon
Fat Bike Rentals Lincoln City Oregon. Looking for fun and exciting things to do on the Oregon Coast while in Lincoln City? Fat Tire Bikes allow you to explore the Oregon Coast in a whole new way. Lincoln City has over 7 miles of beautiful beaches to discover and explore, and there's no better way to explore them than with a fat tire bicycle. Fat Tire bikes have a four inch wide tire that cruises over sand and rough terrain with ease and allows you to go for bike rides right on the beach. Cruising down the beach on a fat tire bike will make you feel like a kid again. Its hard to put into words, but to be riding a bike right next to the beautiful pacific ocean with the waves crashing beside you is an experience you won't want to ever forget.
Most bicycle enthusiasts love the thought of riding bikes along the beautiful Oregon coast however, riding bikes along Oregon's coastal highways can be very dangerous and not worth the risk.  Most sections of Oregon's coastal highways have little to no road shoulder, and that can be very dangerous.  Fat tire bikes however have a great solution to this problem, by getting you off the highways and on to the beach. If you love the beach, and love riding bikes, then this is definitely for you. Fat bikes can help take your bike riding to a whole new level. It's a great workout, and super fun at the same time.  Fat tire bike rental prices start at just $50/ Day
Call Safari Town to reserve your fat tire bike today! We recommend reserving the bikes to insure availability. Reservations available for full day rentals only.
Fat Bike Rental Pricing
$50. Per day.  Must return before the shop closes.
Book Now!
Please park in the rear of the shop and take recommended route to the beach directly from the shop. When heading to the beach please use the lighted crosswalk on HWY 101 for safety. It's just a few blocks north of the shop in front of Starbucks, and visible from our shop.
We don't allow transporting our fat tire bikes.
Helmet included with all fat tire bike rentals.
Fat Bike Reservations
Call Safari Town Surf Shop to make a reservation . A valid credit card is required to reserve bikes. We only reserve for full day rentals.
Fat Bike Rides
Roads End Ride…Family Friendly with no need to transport bikes. More info here…Roads End Ride
Siletz Bay Ride…A longer ride recommended for avid bikers. Children not recommended. Siletz Bay Ride
Fat Bike Rental Cancellation Policy:
We have a 72 hour cancellation policy! We require a minimum of 72 hours cancellation notice before your scheduled rental. Cancellations after the 72 hour limit, or no shows will be charged the full amount. We hold the fat bikes for our customer and that prevents other guests from renting and reserving, so we must keep a strict cancellation policy!
No Exceptions!
By reserving bikes you are agreeing to our strict cancellation policy! If you don't agree with our cancellation policy, please don't reserve our bikes. Thank you.
Transporting Bikes:
We don't allow transporting our fat tire bikes.
We offer local rides that start at our shop and have no need for bike transport. Lincoln City has 7 miles of beautiful beaches and you can access our beaches 5-10 minutes from our shop. See our Roads End Ride  & Siletz Bay Ride
Fat biking photos and videos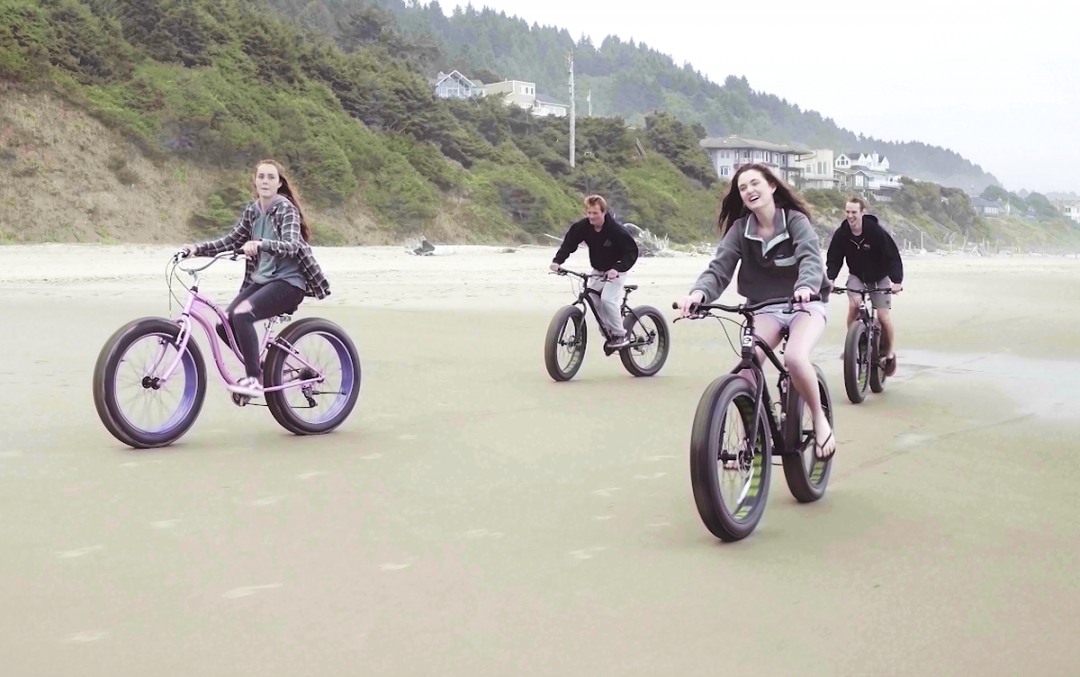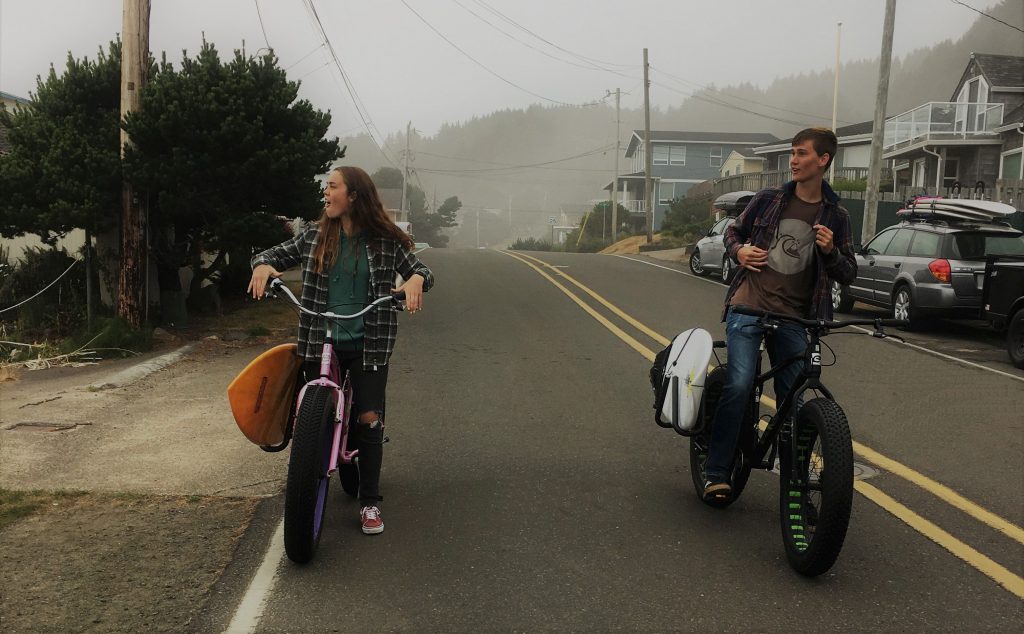 ---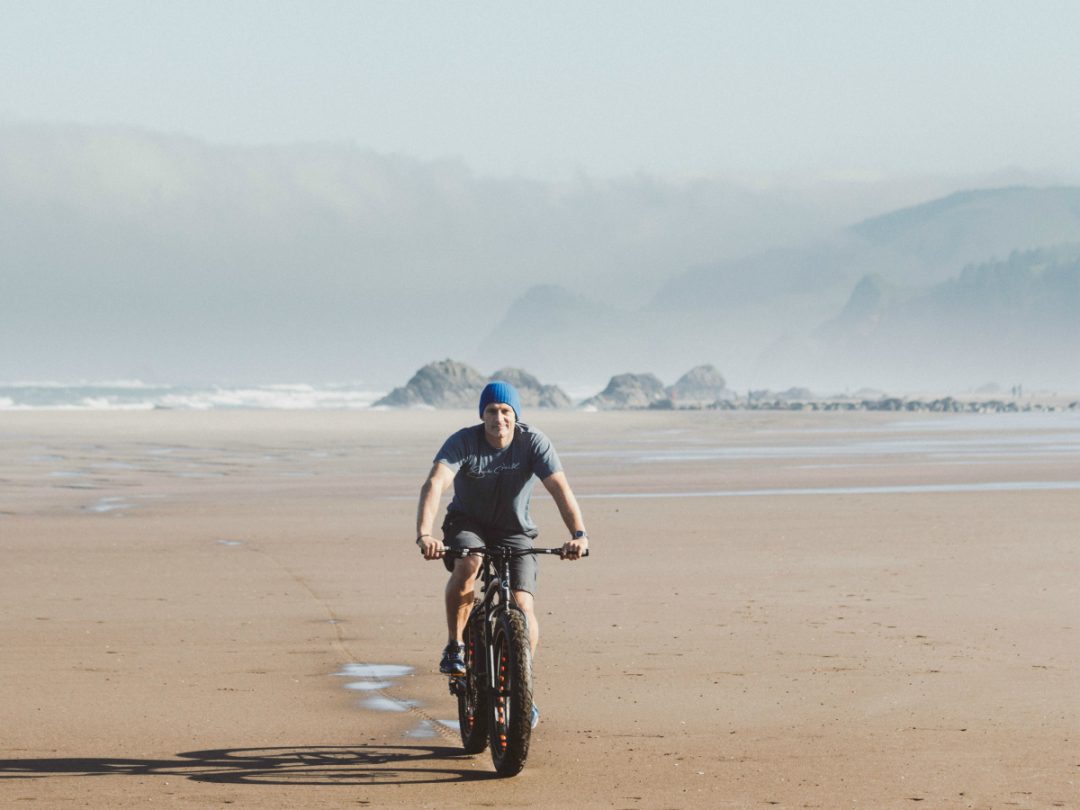 Save
Save
Save
Save
Save
Save