Oreogn Coast Kayak Adventures
Safari Town Guided Kayak Tours
Oregon Coast Kayak Adventures



Oregon Coast Kayak Adventures | Safari Town Surf offers guided kayak adventure tours of the beautiful Salmon River Estuary, the Siletz Bay National Wildlife Refuge, and Devil's Lake in Lincoln City. Safari Town invites our guest to not just come and see the Oregon Coast, but to experience the Oregon Coast up close and personal in a whole new way!
Come join us on one of our environmentally friendly guided kayak tours and explore the beautiful Oregon coast scenery and wildlife. Wildlife viewed may include seals, sea lions, river otters, bald eagles, pelicans, osprey, peregrine falcons, herons, egrets, and countless other shorebirds, along with amazing scenery and breath taking views.
Oregon Coast kayak adventures are available year round and are subject to availability and weather conditions. There is a two person minimum for all private guided kayak tours .
Safari Town's guided kayak tours are perfect outdoor activity for friends, families, corporate team building groups, or couples looking for some added adventure!
Beginner and first time paddlers are welcome, as well as kids ages 5 and up. See restriction below. Feel free to call the shop to schedule your tour or for more information. 541-996-6335
Private Kayak Tours
Safari Town's private kayak tours are catered to each individual group, so you aren't confined by other guests schedules and agendas. Our guides go at your pace, so whether you want to go at a relaxing leisurely pace, or if you want to paddle hard and go as far as possible, your tour will be catered to you and your group. In short private tours give guests a more customized tour that leads to an overall better kayaking experience.
Check our reviews.
Why Choose Us?
Our guides are all registered with The Oregon State Marine Board (OSMB)

Our lead guide had successfully completed the 2020 GORP program. GORP - Guide and Outfitter Recognized Professionals
Our guides are trained and certified with the American Red Cross in First Aid & CPR to help insure your safety.
Family owned & operated company...Est 1989


We provide Waterway Access Permits required by the OSMB

Our guides know the area you will be kayaking. They will take you to the best places and help provide you with a safe rewarding adventure.

The coastal bays and estuaries are beautiful but can also be dangerous for the inexperienced. Our guides are experienced watermen (surfers and divers and kayakers) that understand ocean tides, currents, and other hazards. They know the area and how to navigate the tides. They also know when and where they can safely kayak.

Our guides can share local knowledge with our guests about our beautiful location, geography, environmental conditions, habitat, and history. This helps our guests develop an appreciation for the area and their adventure.

Our guides have the experience and knowledge to handle problem situations if something comes up. Having an experienced guide with you to help if problems arise is well worth the cost of hiring a guide.

We use high quality equipment and Kayaks.
What are customers are saying about us

Salmon River Kayak Tour
Had a great time on Salmon River Kayak Tour. Thank you! Went again today, 7 months later. Awesome. Saw eagle in tree above us 20 feet away. Gorgeous morning, great service! My wife had a nice time again! Thanks again.
Brian Quilty

Highlight of our Vacation
The kayak tour with Tony was the highlight of our vacation this year. It was so peaceful being on the river, and the wildlife put on a show for us. From seals laying on the beach, otter swimming over to check us out, to bald eagles perched on tree limbs, we saw beauty all around us. We even saw two seals fighting over a fish! It was amazing!
Bennet Madsen

Best Surf Store
Best surf store in town. Family owned and we've been coming here for years. Owners know their business and are more than happy to set you up for success in either a rental or a purchase. This is the surf shop to support!
Brendan Clark
Local Guide

Surfing Lessons
Great company. They were super down to earth; they worked with me and helped me with every little thing that I needed. Deklyn is an awesome instructor, we had tons of fun surfing.
Anna Hansmeyer

Family Owned Surf shop
Awesome family owned surf shop with over the top customer service. Operating with tons of integrity and plays a valuable role in the Lincoln City community. This is where I go for all my gear and send my friends.
Brian MacSwan

Kayak Tours
We had an outstanding time with Tony and his son on a recent kayak tour. It was a lot of fun and really educational. I would highly encourage anyone visiting the area to take advantage of their tours.
Alistair T.
Kansas City, MO

Guided Kayak Tour
Looking to find a kayak rental, my husband and I found the Safari Town Surf Shop. The friendly family-run shop owner, Tony took care of us right away. We were on a guided tour the next morning in the beautiful and environmentally protected area at the mouth of the Salmon River. We paddled close to the ocean, then doubled back to explore the estuary. A seal, herons, egrets, and other waterfowl greeted us on this calm, quiet morning. We felt totally safe and in good hands. Thanks for the great time Tony!
Jennifer P.
Vancouver, WA

Wonderful kayak experience!
I took my adult son on a 2 hour guided kayaking trip with Safari Town Surf Shop and we had an amazing time! Chase was our guide and he was extremely knowledgeable about the ecology and geography of the area. It made the whole experience entertaining and informative. As a whitewater kayaker, I wasn't sure what to expect. But we'd go again in a heartbeat! Thank you!
AdventureTracy

Guided kayaking on the Salmon River
We had a two hour guided kayak trip on the Salmon River just north of Lincoln City. It was our first time kayaking. The weather and river conditions were fantastic. Safari Town Surf shop provided everything we needed and met us at the river. Our guide, Kevin, was extremely friendly, personable and helpful in showing us how to kayak safely. We had a great time. We highly recommend. We've already booked another trip and invited friends to go with us.
Neil J

Best surfing lessons!
My family and I traveled to Oregon for vacation this summer. We all wanted to learn to surf. Amazingly, with their help, we learned in one day!
My girls are 17 and 14. We booked a lesson with Safari town which included a lesson for each of us- they fitted us with wetsuits and boards. Kevin and Chase took us to the perfect spot and were helpful And patient while we learned the techniques. We then got to keep the boards for the rest of the day to continue to practice. We had a great time and it was a highlight of our trip. I highly recommend these folks. They clearly take pride in their business and it shows.
Jill C
Crescent Springs, Kentucky

Kayak Tour
We booked a kayak tour with Tony and it was fantastic. He was super chill, willing to work with all levels of kayaking abilities, he was adaptive to our pace, and went out of his way to help us take in some of the wildlife. We will definitely be back, and will recommend him to any and all visitors to Lincoln City and the surrounding areas!
Kaylee Peery

Fat Tire Bikes on The Beach!
My family had so much fun spending the day riding fat tire bikes on the beach! The prices were reasonable and the owner and his son were very helpful and accommodating.
Beth Rogers-Dingus

Surfing Lessons
Great local shop. Tons of rental inventory with the best rates (as far as I could find). My early morning lesson with Kevin was great; his instruction was clear and easy to understand and he had precise answers to my questions, especially about reading the wave and getting up once I caught the wave. I'll definitely be back!
Andrew Larkin

Kayaking on the Salmon River
We had a great first day kayaking on the salmon river and at the mouth of the ocean. Tony and his son were calm, kind, and made it feel safe and fun for everyone.
Shannon Carskadon

Bike Rentals
Had a great time on the bikes we rented here. My daughter and I rode down to the beach and rode next to the waves. So beautiful and such a great experience riding with the breeze in our hair!
Corey H
Phoenix, Arizona

Surf lessons! Wonderful experience
My younger sister and I called Safari Town for a surf lesson on our Oregon Coast vacation. They squeezed us in the next day! We showed up at the shop, were greeted, suited up then met our instructor at the beach near the Devils Punch Bowl. He was patient and very helpful. All in all an unforgettable experience!
anacoleman

Three Hour Salmon River Estuary Kayak Trip
My daughters and I booked a three hour Salmon River Estuary kayak trip, and it was great! One of the owners and his son took us up to the mouth of the estuary, and back up the river. They were knowledgeable about the wildlife and the area we were paddling in. They were prompt, personable, and experienced guides.
Monica Lynn Oviatt
---
Safari Town Kayak Adventures are available on a first come first serve basis. If you have a trip to the Oregon coast planned reserve your dates early for best availability. Our kayak tours schedule during the summer months gets very busy.  Kayak Tours are tide dependent, so that limits the number of tours we can do each day.
---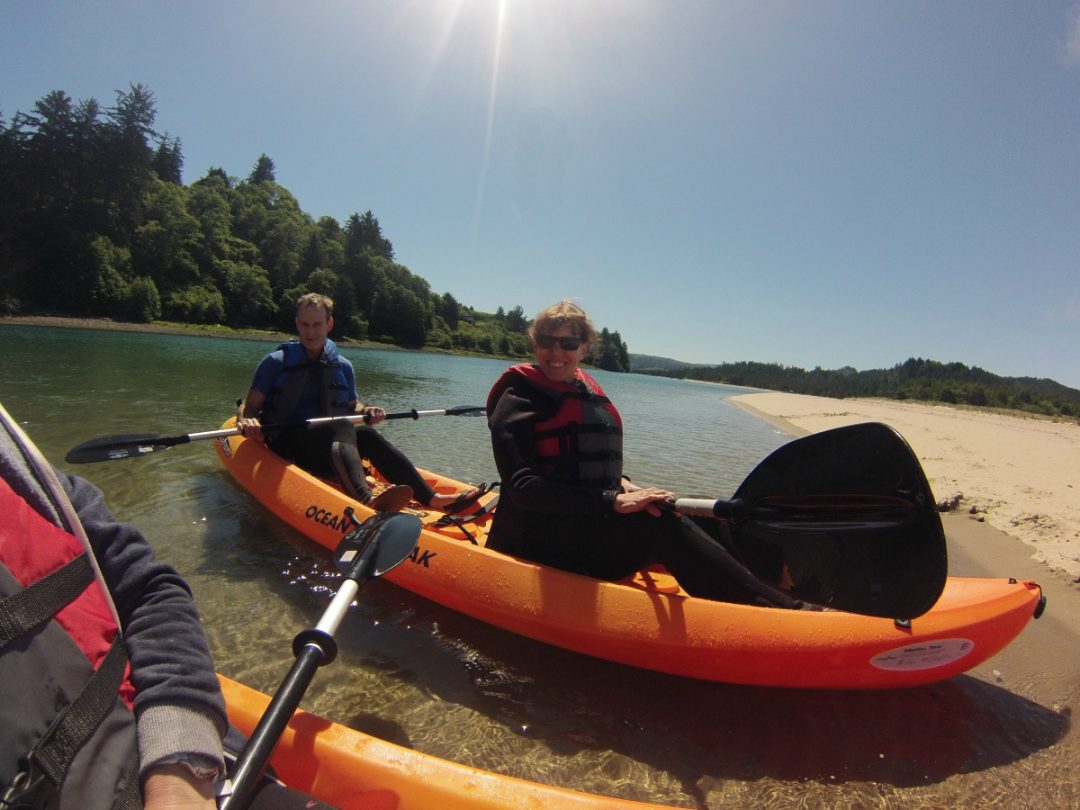 Save
Save
Save
Save
Save
Save
Save